Skip to Main Content
It looks like you're using Internet Explorer 11 or older. This website works best with modern browsers such as the latest versions of Chrome, Firefox, Safari, and Edge. If you continue with this browser, you may see unexpected results.
Basic Turnitin Manual
File Type
1. Turnitin currently accepts the following file types for upload into an assignment that has the Allow only file types that Turnitin can check for originality enabled
2. Turnitin will not accept the following to generate Originality Reports:
Note : Files that are encrypted, hidden, system files, or read only files cannot be uploaded or submitted to Turnitin.
File Size
1. To submit to an assignment click on the "Submit" button to the right of assignment name. The submit button will only appear the first time. A re-submit button will be used to submit new documents until the class expires.
2. You can choose to upload a document or Cut & Paste your content onto Turnitin. You can also upload from your device or from your Dropbox or Google Drive Accounts.
3. Put the Submission Title and Click upload button.
4. Click on Confirm button.
5. Your submission is completed. Click on "Return to assignment list" button
1. Click on the percentage to go to your Document Viewer and see your report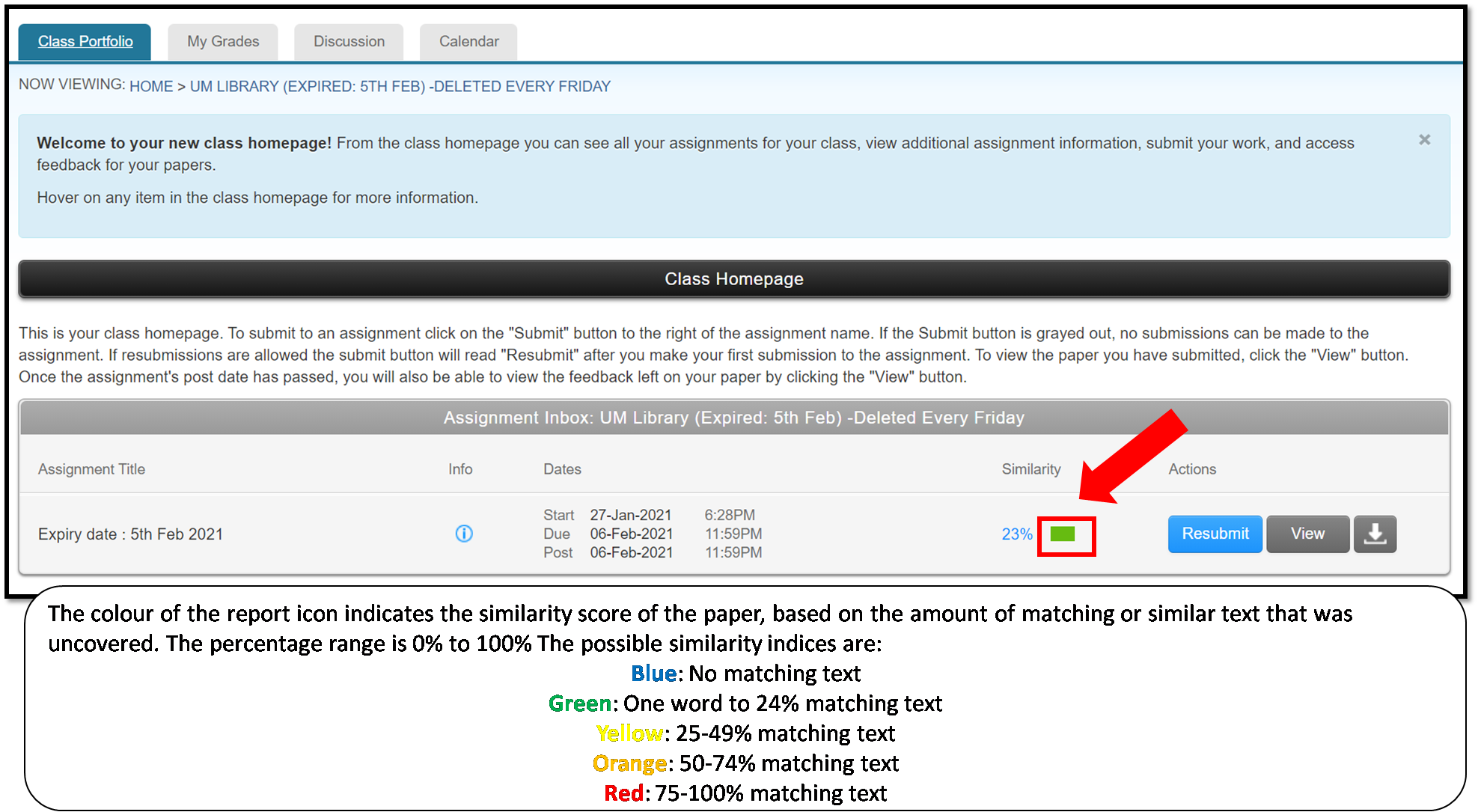 2. View the report and Click on the percentage to view your Matching Source List / Side Bar.
3. Your Side Bar provides you with the source that they have found similar to the text within your document. The more similar sources found, the more colors you will see being matched with your content. All of the same coloured highlights is from the same source. When "un-quoted" and properly cited content of the same color appears it is because of their proximity to each other and they are still considered to be similar to the original reference (eg: book, article ect.) as they are considered copied text with slight changes or additions of words in between.
1. Click on the download symbol and choose "Current View".
2. Your report available in PDF. The cover page contains the title of your document and your name, as well as submission details at the bottom of the page.
*Note: If you have previously submitted a draft of your paper to an opt-in account, the Submission ID is required so always remember to save a copy of the report or each submission ID no matter where you submit your documents.
3. The Originality Report should be included on the last page / last 2 pages of your downloaded PDF report. Re-download the report if it does not appear.
1. To refine your similarity scores, consider the following Similarity Report filters:
2. Excluding Quotes and Bibliography
3. You can exclude sources in the source list that are below the threshold set by you or your faculty.
4. Click on Apply Changes Button.
1. Get Support & Updates @ https://supportcenter.turnitin.com/s/
Turnitin Social Media