The Neolithic Man
The cave dwellers were the earliest men of whom the archaeologists have found traces in Malaya.
A page from the book 'A history of Malaya for schools' - Skeleton
These stone tools have been carefully shaped, sharpened and polished. The great majority of them are adzes. An adze is a carpenter's tool with a cutting edge, rather like a chisel. These polished adzes tell us a great deal about the Neolithic people. They were made by skilled craftsmen with plenty of time to spare. It is thought in fact that they built quite large villages on riverbanks and that although they did use the caves and rock shelters, they lived in houses built on stilts as do many of the country people in Malaya today.
A page from the book 'A history of Malaya for schools' - Neolithic bracelet
The Malay Archipelago
After 1 AD, there existed in the Malay Archipelago a number of kingdom states such as Kedah, Langkasuka, Srivijaya, Majapahit, and Malacca. Among these early great kingdoms were the Malay kingdom of Melaka which had all kinds of traders from near and far sailing all the way to sell and buy their goods here.
It is said that none of the people; that is, the cave dwellers and the Neolithic Men of prehistoric times are related to the Malays today. It is thought that the Malay originally came to South East Asia from somewhere in Central Asia between three and four thousand years ago. They came to live in the Malay Peninsular and in all the islands of the Archipelago.
From the earliest times, people from India and people from China have come to South East Asia. They came to trade, and some of them stayed to make their homes.
A page from the book 'The story of Malaya and Singapore' - trade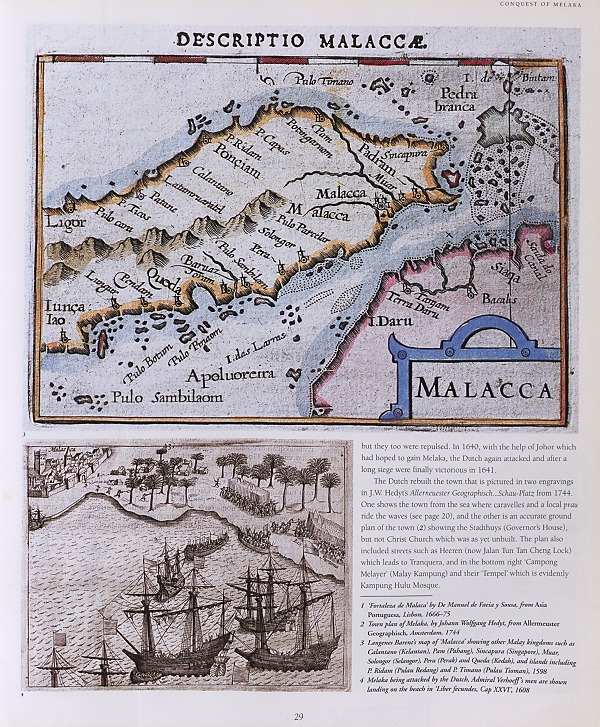 A page from the book 'Malaysia : a pictorial history 1400 - 2004' - map of Malacca
A page from 'Malaysia at 50'